Just The Backs Ma'am (With DVD And Cards)
by
Reed McClintock
A trick from the pocket of Reed McClintock!Facts cannot be disputed! Shouldn't your magic be the same way?
Reed McClintock has created Just the Backs Ma'am. It's a cleverly constructed routine that implies gambling techniques in a plausible fashion. This is an absolute must have for your repertoire. It will allow you to quickly win the trust of your audiences, giving you complete control. The reveal at the end will leave your audiences questioning their judgmentof character. How dare they imply that you are cheating!
Effect
Five cards are pulled out of a wallet, all seem to have the same face. They are all turned face down in your hand. Oneat a time a card is revealed face up and set off to the side until you are left with one face up card in your hand.
The reveal at the end will blow the minds of your audience and alleviateany doubts of your magical card skills.
Catapulting your magic to the next level! Internationally acclaimed magician Reed McClintock will not only have you believing in the power of magic,but in the power of magical performance as well. Whether you are young or old, Reed's latest innovations are a must have for your repertoire. Reed McClintock's audience acclaim can be yours. This product contains everything necessary to go out and perform WHAT LOOKS LIKE REAL MAGIC.
Booklet Pages
7
DVD Running Time
Approximately 14min
Additional Image(s)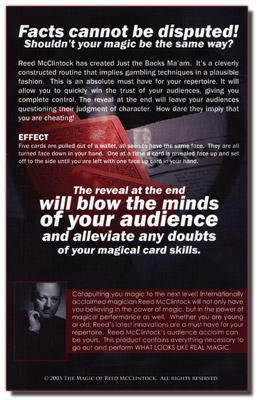 *Just The Backs Ma'am (With DVD And Cards) by Reed McClintock -